Albuquerque Soaring Association
club project
An electric 1/9 Scale model of the B-17
"Smokey Stover"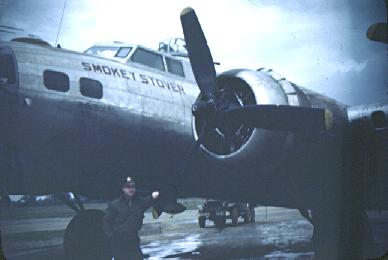 The pilot, 2nd Lt. Albert I. Pierce and his B17G "Smokey Stover" taken at RAF Sudbury in late summer 1944. The crew came up with the name from the then popular comic book character. The B-17 was assigned to the 832 squadron of the 486th bomb group.
For more information on the aircraft of the 486th, go to the 486th's website .
For an account of the crew and missions go to Smokey Stover's website.
---
The B -17 project group is made up of the following members of the Albuquerque Soaring (and electric) Association: Richard Dick, Richard Shagam , Dennis Renner, Terry Pierce, Clin Lashway.
Special thanks to Stan Johnson owner of Hobbies-n-Stuff.
We began with Don Smith plans which models a 1/9 scale B-17G with an approximately 11.5 foot wingspan. Our objective is to use a variety of construction techniques that range from vacuum bagged foam wings to conventional balsa built-up formers and stringers. We are trying for an aircraft and powerplant weight of around 25 lbs. For adequate performance, about 1600 watts of power will be required.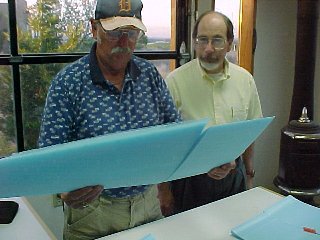 Richard Dick and Richard Shagam hot wire the horizontal stab from blue foam. It will be covered with obechi.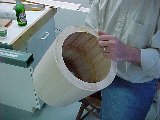 A Fuselage test section was made. 3/32 balsa skin over 1/8 ply formers. This will be tested to failure. We also used it to test our balsa skinning technique. We only drink good beer! (click on image to enlarge)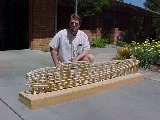 Clin Lashway with the fuselage. Ply formers and balsa stringers are in place.(click on image to enlarge)
Address questions and comments to tpierce@swcp.com