My Experience
| | |
| --- | --- |
| I have studied Tang Soo Do since 1987. I have studied in the US Tang Soo Do Mu Duk Kwan Federation, the International Tang Soo Do Federation (ITF), the American Tang Soo Do Association (ATA), and the International Martial Arts Association (IMA). I received my Cho Dan (#22284) in 2000 and my Ee Dan in 2002, and my Sam Dan in 2005. I was promoted to 4th dan and Sa Bom (Master) by Grand Master Ki Yun Yi in June 2013. I was co-owner with Romeo Medina, of Tang Soo Do Martial Arts, LLC in Albuquerque, NM until Jan 2012. In addition to Tang Soo Do, I have studied a little bit of Aikido and Hapkido. | |
You can read my Black Belt essay with my thoughts on becoming a black belt, as well as my Ee Dan essay on teaching Tang Soo Do and my Sam Dan Essay on Multiple Levels of Teaching and Training in Tang Soo Do. You can also read an article I wrote for Black Belt magazine (June, 2004) on the Physics of Tang Soo Do.
An important part of martial arts is the mental and spiritual aspects which complement the physical technique. Grand Master Hwang Kee's original school was the Tang Soo Do Moo Duk Kwan where Moo Duk Kwan can be translated as "Stop Conflict, Virtue, Brotherhood or Organization", or put more smoothly, "an organization supporting the virtue of stopping conflict (both external and internal)". In the US Tang Soo Do Federation we had 10 Articles of Faith and 10 Training Principals which we recited at the beginning and end of each class. Similarly in the IMA we have 5 Codes and 7 Tenets which we recite before and after class. At each belt level a short essay is required on various topics.
My daughter Akilah started Tang Soo Do at the age of 5, in 1999 and is currently a 2nd Gup.
An article on "Physics in Tang Soo Do" appears in the June, 2004 Black Belt Magazine.
Lineage
I began my career in the US Tang Soo Do Federation under Master Ron Cechner (Dan #SE18450) in Cleveland, Ohio (1987). Sa Bom Nim Cechner trained under Col. Man Soo Chung who trained under Hwang Kee's nephew, Jin Tae Hwang. Master Cechner also trained under Hwang Kee's son, Hyun Chul Hwang (president of the US Tang Soo Do Federation).
I continued with the International Tang Soo Do Federation (ITF) under Master Richard Byrnes in Boston (now GM of the American Tang Soo Do Association). Master Byrnes trained in Korea under Master Chun Sik Kim and Master Ki Yun Yi.
I finally earned my Black Belt in the International Martial Arts Association (IMA) under Kyo Sa Nim Romeo Medina (Dan #21730) in Albuquerque, NM. Kyo Sa Nim Medina trained under Grand Master Ki Yun Yi who was trained by Kim Song Ki. I am currently Ee Dan (2nd degree black belt) and Kyo Sa (instructor), as well as co-owner of my do-jang (Tang Soo Do Martial Arts, LLC) with Bu-Sah Bom Nim Romeo Medina.
While I was working toward my Black Belt under Kyo Sa Nim Medina, Cho Dan James Pumarejo often taught at the do-jang. Mr. Pumarejo subsequently returned to Korea for several years where he studied under Master Yoon Ki Kim in Songtan, earning his Ee Dan and then Sam Dan before returning to this country. Mr. Pumarejo now operates a do-jang in Tucson, AZ at the Davis Monthan AFB. I was greatly honored when on a recent trip to Korea, Master Kim, Ivanhoe (7th Dan) recognized me as Ee Dan in his Soo Bahk International organization.
The following are links to people whom I have studied under: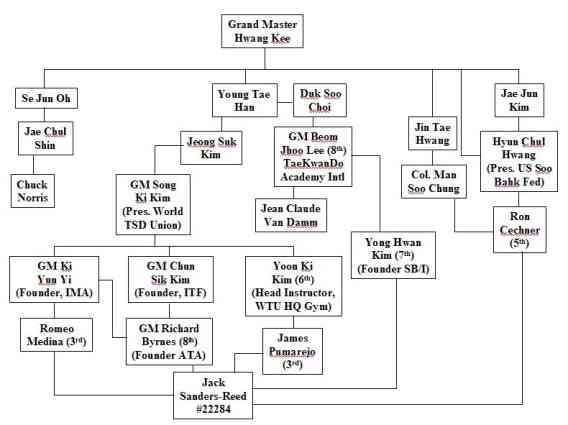 GM Ki Yun Yi earned his Black Belt at age 12. He earned his Master's belt (4th Dan) in Songtan Korea under Jae Chul Shin and Song Ki Kim. He came to US in 1974 at the request of the Korean Soo Bahk Do Mu Duk Kwan Assoc.
GM Chun Sik Kim started Tang Soo Do at age 8 and earned his Black Belt at age 10. He earned his Master's belt in Songtan under Jae Chil Shin and Song Ki Kim. He was the head instructor at the Osan AFB in 1963. After moving to the US, he became president of the US Tang Soo Do Federation, before founding the Internation Tang Soo Do Federation (ITF), of which he is currently president.
GM Richard Byrnes studied Tang Soo Do at Osan AFB under Chun Sik Kim and Ki Yun Yi, before returning to the US where he founded the ATA.
---
Pictures
| | |
| --- | --- |
| This pictures shows the Black Belts at our Tang Soo Do Martial Arts do-jang in Albuquerque, NM. In the front row, Kyo Sa Nim (2nd Dan) Leslie and Jacob Rodriguez, in the back row Bu Sa Bom Nim (3rd Dan) Romeo Medina, Sa Bom Nim (4th Dan) Master Bonilla visiting from NJ, and myself. | |
| | |
| --- | --- |
| | While in Korea in Sept., 2002, I visited the Songtan do-jang outside of Osan AFB. This is the headquarters do-jang of the World Tang Soo Do Union. In addition, it is where my current Grand Master Ki Yun Yi (founder of the International Martial Arts Association (IMA) obtained his master's level black belt and where Chul Sik Kim, founder of the Interntional Tang Soo Do Federation (ITF) earned his master's level black belt. Another instructor of mine, Sam Dan James Pumarejo also trained here. Chuck Norris also obtained his Master's level black belt here. This picture shows me with head instructor, Master Yun Ki Kim. |
| | |
| --- | --- |
| During my Sept. 2002 trip I visited the do-jang of Master Koo Hong Kyu in Seoul. I was honored to receive a one and a half hour private lesson with Master Kyu. | |
| | |
| --- | --- |
| | Founder of the Soo Bahk International organization, Master Ivanhoe Kim, offered me several opportunities to train with him in Seoul. In addition, he and several of his students showed me around Seoul, taking me to a Buddhist temple, the InsaDong market area, and a large produce and herb market. This is a picture of Master Kim and myself in InsaDong market. |
---
Jack Sanders-Reed, Jack.Sanders-Reed@boeing.com, 505-281-8563