Antelope Canyon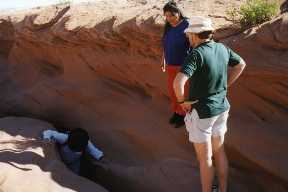 Antelope Canyon has been described as the most photogenic slot canyon in the world. I have seen pictures of Antelope Canyon in numerous calendars and books. Antelope is located just outside of Page Arizona at milepost 299 on state route 98 (between Page and the large power plant just east of Page). Access is controlled by the Begay family who have placed numerous ladders to help you get in and out of the canyon, probably close to a dozen in all. Three of us visited Antelope Canyon on 17 June 1997 following a major expedition into the upper end of West Canyon. We only explored the lower section called the corkscrew but I understand that about 5 km upstream, the Crack is pretty incredible. At the Corkscrew, Antelope Canyon is probably 60 feet deep and 2 feet across at the top. One of my companions, Tom Katonak stepped across the top of Antelope Canyon.
The entrance to the Corkscrew. That's me (above) going in with John Beach and a lady from the Begay family watching (picture by Tom Katonak).
A view of John Beach and myself (below) in the canyon (pictures by Tom Katonak) and a view of the top of the canyon near where Tome stepped across
The colors and patterns in the rock are phenomenal.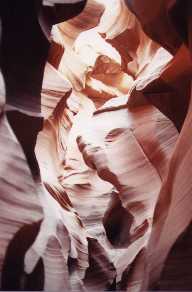 A few weeks after we visited Antelope Canyon, a group of 11 European tourists were drowned by a flash flood in Antelope Canyon. The local guide from Page, Az ignored a thunderstorm several miles upstream several hours earlier. Read a description of a flash flood.
All of the pictures here were taken with hand held 35 mm. Mine were ASA 200 but many were taken leaning against the walls at 1/15 or 1/30 second. The lens was an f/1.4 50 mm.