Dave's Incredible Yo-Yo Gallery

Part Two

---


Informal Guide - Once again, here's a brief guide to help you during your visit. Continue down the page to view each and every one of these Awesome Yo-Yos !!! Click on this link to view the complete Listing of all of the yo-yos on display in both parts. You can also return to Part One of Dave's Incredible Yo-Yo Gallery, or to the Museum Guide on the main page.

---




Before we begin with Part Two of Dave's Incredible
Yo-Yo Gallery, here's a little yo-yo history lesson.
Several people have asked about the world's oldest
yo-yo. And several antique dealers have told me
that yo-yos aren't old enough to be considered as
antiques. Well, what about this one ... This was made
around 500 BC in ancient Greece. These yo-yos
were made of terra-cotta and were quite a fad in
olden times. Hope this one is old enough for you !!!

I also thought I'd show you this picture of one of the
Sacred Places of Yo. This is the old Duncan plant in
Luck, Wisconsin. Most of the yo-yos shown in Part
One were manufactured here. In fact, probably half
my collection was made inside this building. I'd love
to find one of the town banners shown at the top of
the picture. So much for history... let's get back to
the Yo-Yo Gallery !!!
---
Ja-Do Jeweled Luck-E Contest Top

Ja-Do was an unpromoted line from Duncan in the early
50's. Jack and Donald Duncan Jr. ran the company in
the 50's, and the name "Ja-Do" comes from the first two
letters of each of their names. I've also wondered if the
"Luck" in the name comes from the plant in Luck, WI.
Because of it's lower price, this short-lived line often
sold better than more expensive Duncan models during
promotions. Because of this, it was discontinued. The
yo-yo shown here is a one piece wooden yo-yo, with a
gorgeous baby blue paint job and an impressed silver
logo. On the back, are three clear rhinestones. This is
a beautiful yo-yo !!! I'm looking for more Ja-Dos !!!


---

Goody Rainbow Filipino Twirler

Another "Biggie" on my want list. The Rainbow is the
model mentioned in Part One when describing the extra
"flash" Goody often put into their yo-yos. Beautiful, but
a little overdone. This is a wooden model, painted in
black with a metallic gold stripe, a bright yellow logo,
and seven multicolored rhinestones. I believe this was a
50's model. I'm very fond of Goody yo-yos and would
like to find a LOT more.


---

Duncan Imperial Yo-Yo Tops

As a collector, I get offered more Duncan Imperials
than any other yo-yo. That's because Duncan has been
making them continuously for 40 years. Shown here is
the first type of Imperial, the "Chevron" type. I'd like to
find more of this variety. They were made in the late
50's by the old Duncan company. The most common
Imperial is the "Fleur De Lis" type, and there are several
logo variations of this kind. Click on the link to see two
"Fleur de Lis" logo variations. The only "Fleur De Lis"
Imperials I'm looking for are opaque colors, swirled
colors, and Imperials still packaged on older cards.


---

Donald Duncan Jr. Signature Yo-Yo

This is a very unusual yo-yo, and in Mint condition !!!
It is a one piece wooden model, with a natural wood
finish, probably varnished, and a gold foil impressed
logo of Donald Duncan Jr's signature. I got the details
about this model recently from Mr. Duncan. It was
made around 1957-58, and was a promotional model.
Only a few hundred of these were made. The gentleman
that I bought it from said it was a "Give-away" item he
picked up at a toy show. According to Don Duncan,
some were also put in promotional packs, which
included other items from Duncan Toys.


---

Superb Chico Tournament Tops
I know, you're saying this isn't a yo-yo, it's a box. But
actually it's even better than a yo-yo... It's an original
shipping and pop-up display box, full of mint condition
yo-yos from the mid 50's !!! These one piece wooden
yo-yos are painted in assorted colors, with contrasting
stripes, and have multicolored decals for logos ... Very
Nice !!! I have a few of these that are a little different ...
the decals on mine have a gold metallic background
instead of the yellow like these. Actually, I think the
yellow is a lot prettier. Click on the image to open the
lid and see all the yo-yos.
Cheerio Glitter Spin

The Cheerio Glitter Spin is highly sought after by yo-yo
collectors. Four rhinestones were set on each side of
these one piece wooden yo-yos, around a multicolored
gold metallic sticker. Cheerio was the only company to
arrange the rhinestones in this way, probably because of
Cheerio's "sticker" logos. I believe these were made by
the original Cheerio company, before Duncan bought
them out. The name "Glitter Spin" was trademarked by
Duncan in 1956 when they bought Cheerio, but it is
noted the name was used since 1947. The one shown
here is one of my favorite color combinations. I love the
contrast of clear jewels on dark colors. You should see
the way the "jewels" sparkle as the yo-yo spins !!!
---
These two cute kids say, "We're not going to play with
these yo-yos... We're going to keep them in really nice
condition and sell them to Dave. He'll buy our yo-yos,
and we can save the money for our college education !!!
E-mail Dave right away if you have any cool yo-yos or
yo-yo stuff to sell !!! Dave's address and phone number
are at the bottom of the page too."
---
I've been asked many times if I also collect advertising
yo-yos. The answer to the question is "Yes", and here's
one of my more unusual advertising yo-yos to prove it.
This one is a promotional item from Life Savers. Notice
the shape of the yo-yo and the logo stamped on it ...
just like two real Life Saver candies side by side in a
package. I believe these were made in the early 60's.
They came in several different colors. I'm looking for
more of these, mainly because of the unique shape.
I'm not terribly sure about the age of this yo-yo. My
best information dates them to the late 30's through the
40's. These yo-yos came in a variety of colors, usually
including some very "odd" ones, like lavender and army
green. I believe Kayson's only made this one model. It
is a three piece wooden yo-yo with a fixed string, and a
decal for a logo. Each half was painted a different color.
A very interesting old yo-yo !!! Make sure to take a
look at the Kayson's String Pack in the Memorabilia
Funhouse... It's really nice !!!
The Royal King Size Yo-Yo is an oversized model
measuring slightly over three inches in diameter. It's also
much thicker than the average yo-yo. These came in a
variety of colors, but all of the combinations I've seen
were very striking. Not only are the color combinations
beautiful, but the decal used for the logo also really adds
to the overall appearance of the yo-yo. This is a painted
wooden yo-yo with a contrasting stripe from the mid
50's. I've heard these were briefly sold in stores and
also were sometimes used as prizes at Royal Yo-Yo
Contests. I'd love to find a few more of them !!!
Festival Screamer Whistling Yo-Yo

Ignore the "Mickey" in the foreground ... the yellow and
black checkered yo-yo is the Festival Screamer. Wilf
Schlee, who also owned Cheerio and Hi-Ker in the
50's, was the owner of Festival. The company made a
wide range of plastic, wood, and tin yo-yos, starting in
the mid 60's and ending around 1980. This is the 1980
version of the Festival Screamer. It is another whistling
tin yo-yo ... Notice the holes on the rim. The logo is a
simple sticker. There is also a purple and pink variation
of the Screamer which is an early 70's model. The
pattern is also different on the earlier type. I'm looking
for both varieties of Screamers.


---

Hummingbird Yo-Yo Master Gold Award Yo-Yo

Not all collectible yo-yos are old, and this one proves it.
It is a three piece wooden yo-yo from Hummingbird
Toys. Hummingbird made an assortment of awesome
wooden yo-yos. The company suddenly went bankrupt
two years ago ... so suddenly that I didn't get a chance
to stock up on my favorite playing yo-yos. I was totally
devastated. Fortunately, Brad Countryman, the owner
of Hummingbird, is back in business now with his new
line of "What's Next Yo-Yos".


There were three versions of this model ... a gold, a silver, and a bronze award. All three
have the same impressed logo, but with different colored metallic foil. These were never
sold. They instead were only given away as prizes at yo-yo contests. For several years,
they were given away at the National Championships in Chico, CA. One year, they
were built into special trophies !!! The yo-yos were made around 1990, when Daniel
Volk, "The Yo-Yo Master", worked for Hummingbird. Notice the similarity in titles !!!

---

Bird In Hand Bronze Award Yo-Yo

Another recent model from around 1992... And from
one of my favorite companies, Bird In Hand Yo-Yos
in Chico, CA. Bird In Hand makes high quality and
beautiful wooden yo-yos. But beyond their products,
the company has done so much to promote yo-yoing
as a hobby. The National Yo-Yo Championships
which are held every October in Chico are sponsored
by Bird In Hand. The one shown here is a three piece
wooden yo-yo with a gorgeous light metallic blue paint
job. This one was used as a bronze award at some of
Bird In Hand's events. There are two other models in
the set with the same logo, a gold and a silver award.
Both are painted in the appropriate metallic colors.
Beautiful Yo-Yos !!!


---

Tom Kuhn Smothers Brothers Winery Yo-Yo

Besides being entertainers, the Smothers Brothers are
also businessmen. They own and operate a winery in
California. This one is an advertising yo-yo that was
sold at the winery gift shop in the late 80's. It was made
for them by Tom Kuhn Custom Yo-Yos... you can tell
by the hex nut at the center of the yo-yo. It is a three
piece wooden yo-yo with a natural finish and a laser-
carved logo. It also has the well known Tom Kuhn axle
system, which allows the yo-yo to be "unscrewed" to
remove knots or to replace the axle. The one shown
here is the butterfly model. There is also a standard
version that I'm trying to find.
---
Well, that's it for your tour of Part Two of Dave's Incredible Yo-Yo Gallery !!! This was just a sample of some of the fascinating yo-yos that are out there. It was not intended to be complete. There were many other companies that I didn't mention that made yo-yos that are now collectible. And for each of the companies I did mention, there are many, many other models that were produced.

Please contact me if you have anything for sale, either by E-mail , regular mail, or by phone. I'm always looking for more yo-yos and memorabilia to add to my collection.
---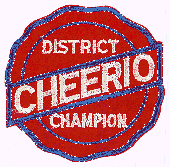 ---
Dave's Incredible Yo-Yo Gallery, Part Two
Last Updated : February 16, 2002