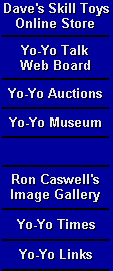 Ron Caswell resides in Kalamazoo, Michigan. He works in graphic arts, specializing
in image assembly for the packaging industry. By night he explores cyberspace and
lands upon a variety of topics. He has visited the Planet of Yo many times. With his
Bryce software and an interest in making old things look like they are from the future,
he has recreated some true classics originally found here at Dave's World of Yo-Yos


Final Frontier

Natural World

Surreal Dimensions

Strange Places




Click here to Download Ron's Yo-Yo Screensaver .
A compilation of 16 yo-yo images from Ron's Gallery
( 1,417 KB, For PC )

All Images Were Created by Ron Caswell , kazman@chartermi.net
Created using Bryce Software for Macintosh and PC.

Page Maintained by David W. Hall , "The Yo-Yo Collector" , whistler42@swcp.com


All Images © Copyright 1996-2016 By Ron Caswell. All Rights Reserved.
Images May Not Be Used Without Expressed Permission.