Russell G. Brown: Segmented Woodturner

Art/Craft Fair Schedule Purchasing My Work
Artist/Bowl-Care info (requires Acrobat Reader)



If you have comments or questions about anything on these pages, send me email: rgbrown@swcp.com


Clicking on one of the thumbnail images below will load that bowl's page, which contains a larger image of the bowl, and in most cases, a description of the bowl telling how big it is, what species of woods were used in its construction, and how many pieces it contains. In a few cases, that page will contain a thumbnail of a bowl of the same (or very similar) design from a different selection of species. See also my shop at segmental.ETSY.com , where some of my work is available for purchase via PayPal.
---
New Product: Earrings and Pendants: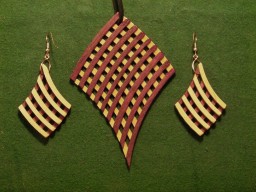 Purpleheart and Maple Earrings and Pendant
(Available for purchase in these and other species from my shop at segmental.ETSY.com )
The Bowls: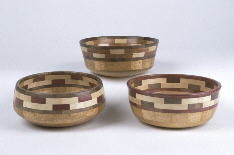 Trio of 18-Segment Greek Key Bowls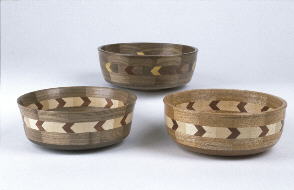 Trio of Chevron Bowls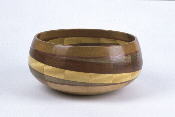 Helix Bowl

Eight-Panel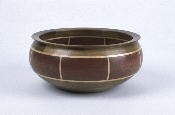 Smaller Eight-Panel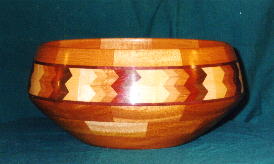 Zigzag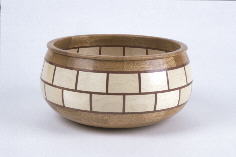 Brick

Ziggurat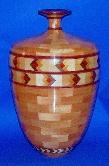 Owl's Eye Vase

Bubinga Triangle Vase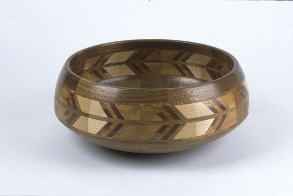 Feathery Bowl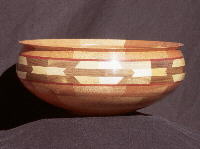 Sigma-Patterned Bowl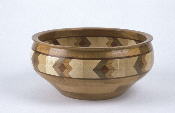 Owl's Eye Bowl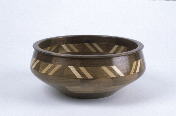 // Bowl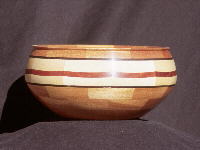 Swagged Bowl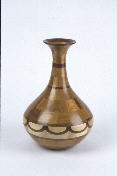 Swagged Genie Bottle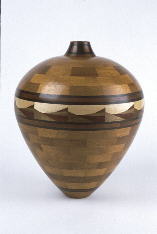 Terrain Vase, Mahogany Body (12"d x 14" h)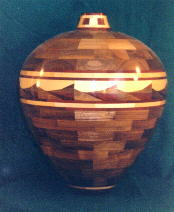 Terrain Vase, Walnut Body (12"d x 14" h)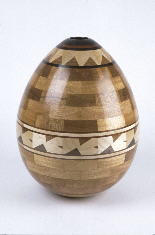 Confetti Egg Vase, Mahogany Body (11 3/4"d x 15" h)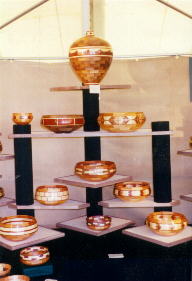 Group Photo


The bowls below are not patterns that I'm making anymore, generally. There's nothing wrong with them, for the most part, except that I now have a lot more experience with design, construction, and turning, so these pieces are rather dated looking. Not bad. Just dated.

Sixteen-Segment Plaid

Trio of Small Sixteen-Segment Checkered Bowls

Veneer Herringbone Bowl

Diamond Pattern

Wide Ruins
Segmented Woodturning Article: Building and Turning a Segmented Bowl: The "Brick Bowl"
---
Woodturning is my main activity these days. I realized, just recently, that this paragraph still claimed it was a leisure activity, but that isn't really true, any longer. I've been turning full-time professionally since August of 1999. I'm to the point where the kind of turning you see here is something I do fairly well, which is fortunate, all things considered. It is my hope that over the next few years I can become more versatile with alternate methods of lamination, construction techniques leading to curved patterns, forms which incorporate intentional voids, and anything else I can think of along these lines which makes me more versatile as a turner and which makes my works more interesting.

---